Click to read what you'll find in this post
Time for a garden tidy-up but your green bin isn't quite going to do the trick?
Here are some tips on green waste removal options to help you face your next big garden clean up…
Use Your Green Waste Bin
If you don't have much green waste, your council-issued green waste bin might just do the trick. This is usually the case if you stay on top of things and just have a few weeds to pull or a shrub or two that needs a light trim. Keep in mind, it might look large when empty, but can fill up after a good clean-up in just a single garden bed!
You can put the following from your garden in your green bin:
Organic waste
Grass clippings
Small prunings
Wood (branches, pruning, etc)
Weeds
Dog poop

It's important to keep your green waste bin uncontaminated so it can be recycled and repurposed properly!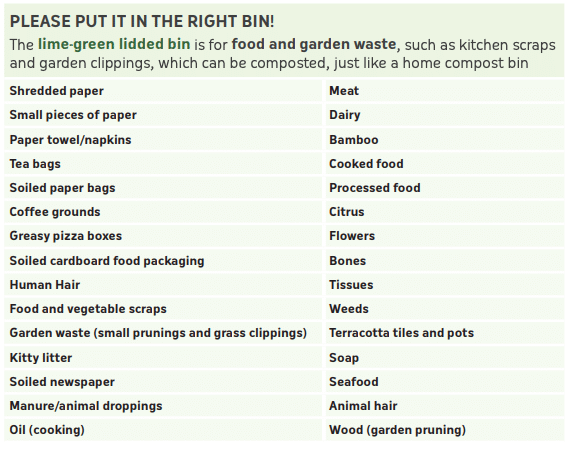 Skip Bins – for large amounts of Green Waste Disposal
If you are doing a big garden clean-up, and don't have a trailer to take it to the tip yourself, you're going to need to hire a skip bin.
Sizes usually range from 3 cubic metres to 12 cubic metres and can be hired from many companies around Perth.
This allows you, not just bigger quantities, but for larger, heavier green waste disposal. The company will take it to a registered green waste recycling/composting facility so it can be turned into compost and mulch – rather than getting tossed in landfill.
In skip bins, you can dispose of additional green waste such as:
Large tree branches/stumps
Soil
Palm fronds
Along with the usual weeds, pruning, clippings, etc.
Skip bins can start from a few hundred dollars, but if the alternative is making multiple trips to the tip, it can be worth it in the end.
Tip – many green waste disposal facilities now won't accept Prickly Pear cuttings so check with your skip bin company when booking.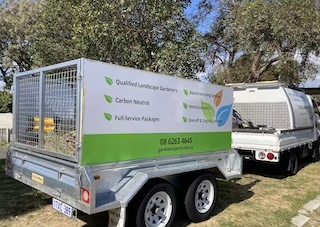 Book a Garden Clean Up Service
Don't want the hassle of gardening and green waste removal yourself?
As part of our Garden Cleanup and Garden Maintenance Packages, we are able to remove large quantities of green waste for you. Each of our Gardening Packages comes with an allocation of green waste removal, but if your service generates a larger quantity; e.g. after a yearly hedge trimming service or cleanup of a very overgrown and neglected garden, we can remove the extra for you.
We can also advise if it will require a full trailer load or organise a skip bin for you if it is a serious cleanup of a property that is more 'jungle' than garden! Either way, we will make sure that your garden is left looking healthy, well-maintained and tidy – so you don't have to organise a thing.
Get in touch to book a gardening service today
Call our team on 08 6363 4645 to book in your garden service – we'll take care of the clean up and remove all the green waste for you!
---
Here are some green waste removal FAQs…
Do you do garden clean-ups before green waste verge collection?
Yes! This is a great time to take advantage of the free green waste removal and give your hedges a good trim and your gardens a refresh! Contact us to book in for a garden clean-up before your suburb's next collection.
How much green waste can you remove?
We travel with large trailers and can remove approximately 5m3 of green wastes at one time.
Is this a service you offer in your regular maintenance packages?
It sure is. If you have booked our team for a garden maintenance service or clean up, we will always remove the green waste generate as part of your service. Additional charges may apply.