Hedge Trimming Services
PROFESSIONAL HEDGE TRIMMING SERVICES FOR HEALTHY, WELL-MAINTAINED HEDGES THAT LOOK GREAT YEAR-ROUND
Professional Hedge Trimming
Shrubs, bushes and other hedging plants are ideal for maintaining the privacy of your home and adding to the look of your landscape, but when they're not regularly maintained, overgrown and unkempt hedges will have a negative impact on the appearance and value of your home.
At Perth Gardening Experts, we understand the need for regular maintenance and offer a wide range of hedge trimming services in Perth to keep your hedges healthy, perfectly shaped and always looking their best.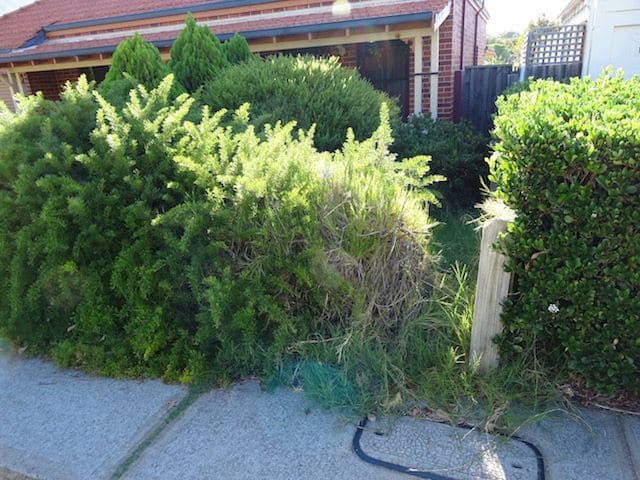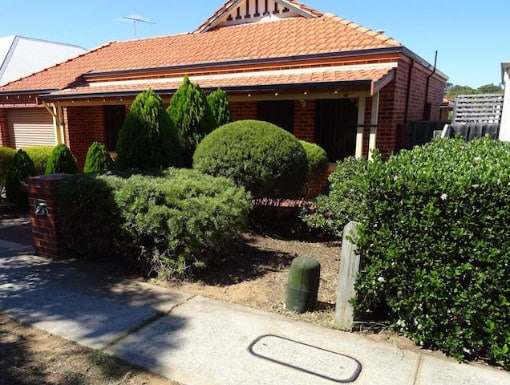 No matter what type of hedge you have in your yard or garden, (up to 2m high) Perth Gardening Experts will take care of your every need. We understand that no two hedges are the same, which is why we tailor our services to match your requirements. We work with all types of hedging plants, from Buxus, Lilly Pillies and Murraya, to Photinia or Viburnum varieties.
Our professional gardeners also have a keen eye for detail and strong artistic flair, allowing them to beautifully shape and maintain your hedges. They use state of the art tools to ensure accuracy and work on even the tiniest of details.
A well-maintained hedge is an asset to your property; an out-of-control hedge can be a nuisance or even start to become a hazard! If your hedge is blocking pathways, visibility or threatening to scratch your car or passersbys – it's time to call in the professionals!
Our Garden Maintenance Packages
$295 +GST
Ideal for small, well-maintained gardens.
Two qualified gardeners
One hour of gardening
Fully equipped with electric tools - quiet and eco-friendly!
$20 off each service for recurring customers
A very popular quick tidy up on a fortnightly or monthly basis to keep your garden looking amazing.
$490

+GST
Ideal for medium gardens.
Two qualified gardeners
Two hours of gardening
Fully equipped with electric tools - quiet and eco-friendly!
$20 off each service for recurring customers
This package is ideal when a range of services and skills are required, weeding, pruning and lawn care.
$890

+GST
Great for larger blocks or complex gardens. 
Two qualified gardeners
Four hours of gardening
Fully equipped with electric tools - quiet and eco-friendly!
$20 off each service for recurring customers
For more complex services such as extensive hedging & pruning – or properties needing finer attention to detail.
$1,690

+GST
For large or commercial gardens.
Two qualified gardeners
A full day (7 hours) of work.
Fully equipped with electric tools - quiet and eco-friendly!
$20 off each service for recurring customers
Great for extensive multi-area gardens which need additional time and a full range of expertise, or strata / commercial properties.
*if outside our usual service area, we may need to include an additional small travel surcharge  - will be advised upfront before booking.
All gardening packages include:
A team of two qualified gardeners
Professional-grade electric tools to handle all garden maintenance tasks
Removal of all green waste*
Get $20 off every service by becoming a recurring customer!
You can be confident that when you book with us we will show up when we say we will, you can always reach us during business hours and we are fully insured and accountable for the quality of our work.
We are proud of our 5-star reviews and hundereds of happy and ongoing customers – and would love you to be one of them!
*We can remove all green waste our teams generate so you don't have to worry about a thing – this is charged at $35 per garden bag.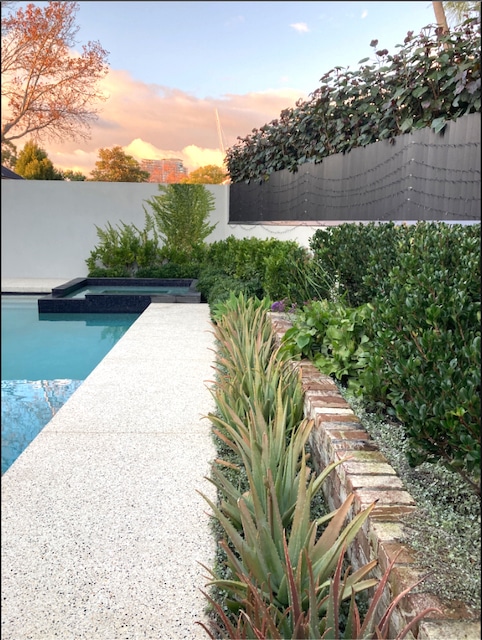 Our Complete Gardening Services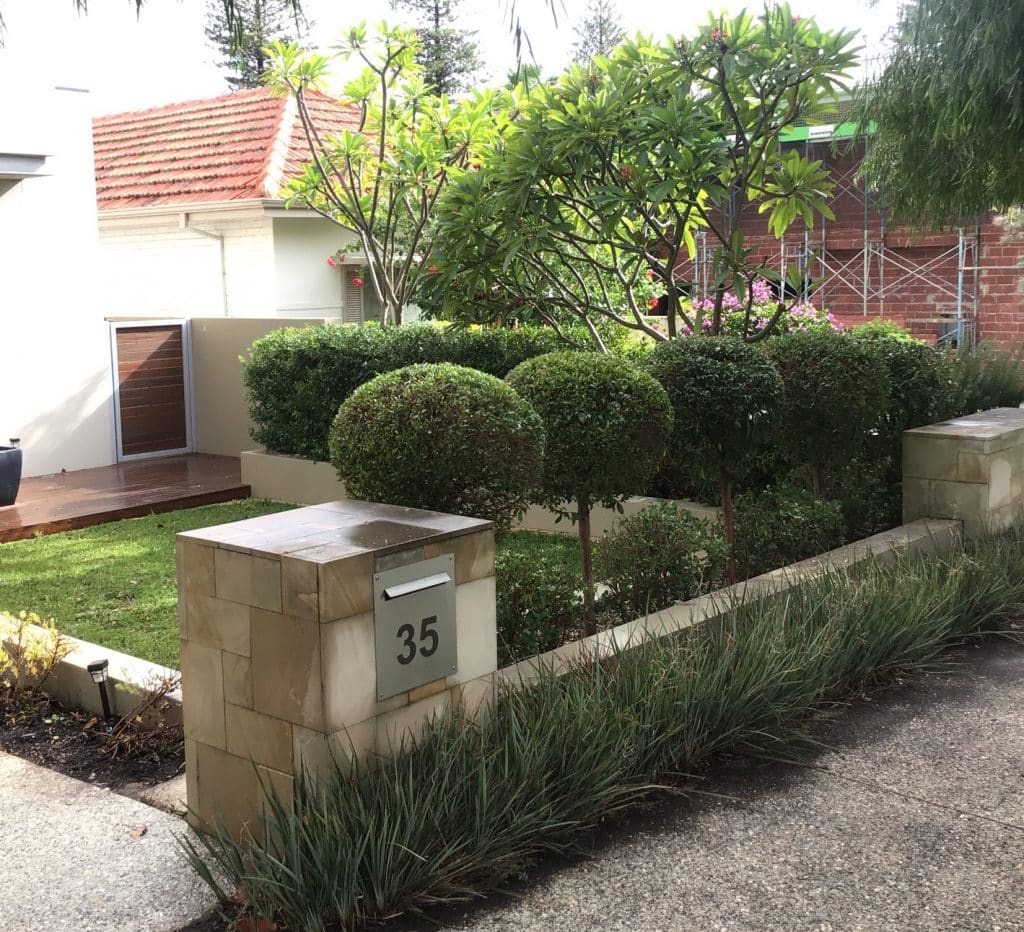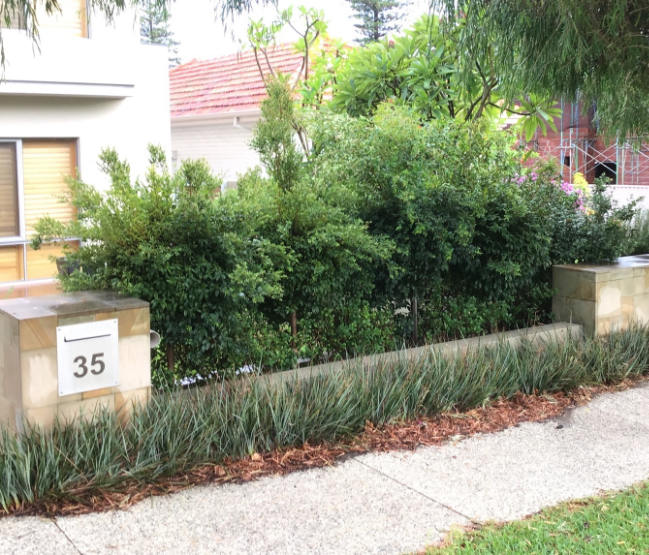 Hedge Trimming Perth
For hedges to have the desired effect, they must be kept well trimmed. Uneven, patchy growth can look very untidy – and that's why it's important to get the professionals in to help with your regular hedge trimming.
Correct hedge trimming is about much more than just shape. Tapering will ensure a good distribution of sunlight, and good pruning will keep growth even. Hedge cutting techniques, seasons and frequency depend on your species of plant; if done incorrectly, your hedge might become stressed or damaged.
Hedges also require a skilled hand to create the correct lines and shape. Trimmed correctly, you can achieve green, thick, lush and even hedges which create a neat and formal appearance in your garden.
Comprehensive Garden Services
Have Questions? Read through our FAQs...
Here are some of our most frequently asked questions when it comes to our hedge trimming services in Perth. If you don't see what you need – just get in touch with our friendly team!
How often should I trim my hedges?
It depends on a few factors such as the plant species, how much water, sun and fertiliser the hedge gets but as a general rule every month to every 2 months is a good rule of thumb. Giving your hedges a good, thorough cutting back every 6-months is ideal, along with a regular trim to keep them in shape.
Can you trim all heights and shapes of hedges?
We can trim and shape anything up to 2 metres in height. So, if you can reach it by platform and extension, we can take care of it. If the hedges are too high or too dangerous for us to trim, we will refer you to our tree loppers to take of it for you.
Do you remove all the green waste after trimming?
We absolutely can! All of our packages come with a green waste allocation included in the price, and if your hedges require a serious trimming that will generate more waste than allocated, we will take that away for you at a reasonable extra charge. Getting us to take it away is cheaper than hiring a skip bin – and it's done in one visit!
Do your teams have all the tools needed for every job?
Yes! Our gardening teams are equipped with a full range of professional-grade electric tools so they will always have what is needed to get you the right result. Along with hedging equipment, this includes mowing, weeding, whipper snipping, edging, hand tools and more.
What is the best time of year to trim my hedges?
Most hedges can be trimmed year round although we tend to avoid trimming hedges that are about to flower or are flowering.