Looking for mulching services in Perth?
Let our experienced Perth gardeners take care of that for you.
At Perth Gardening, we understand the need for quality garden mulch to keep your garden healthy, tidy and weed-free. We also offer regular re-mulching to keep garden beds always looking their best.
If your garden needs mulching, we can help you select the right type for your plants and space, and carefully and professionally apply it to your garden beds.
Get a free garden mulching quote
Mulching Assessment
Not sure what type of mulch or the exact quantity you need?
The correct application of mulch is about more than just weed prevention. Good quality mulching will also help to retain water in the soil by acting as an insulation layer – important for our Perth climate and water resources.
If you aren't sure what mulching services you need and would like advice from an expert, you can book in for a professional Garden Mulching Assessment with one of our landscape gardeners.
They will assess your property, take measurements and advise on the type and amount of mulch your garden needs – providing you with a quote for the mulch supply and application.
They can also provide a Garden Maintenance quote while there if you would like help with the ongoing care of your garden.
Assessments cost from $88 depending on your location – which is then fully credited if you choose to go ahead with our quote.
Complete Gardening Services
Our Garden Maintenance Packages
$295 +GST
Ideal for small, well-maintained gardens.
Two qualified gardeners
One hour of gardening
Fully equipped with electric tools - quiet and eco-friendly!
$20 off each service for recurring customers
A very popular quick tidy up on a fortnightly or monthly basis to keep your garden looking amazing.
$490

+GST
Ideal for medium gardens.
Two qualified gardeners
Two hours of gardening
Fully equipped with electric tools - quiet and eco-friendly!
$20 off each service for recurring customers
This package is ideal when a range of services and skills are required, weeding, pruning and lawn care.
$890

+GST
Great for larger blocks or complex gardens. 
Two qualified gardeners
Four hours of gardening
Fully equipped with electric tools - quiet and eco-friendly!
$20 off each service for recurring customers
For more complex services such as extensive hedging & pruning – or properties needing finer attention to detail.
$1,690

+GST
For large or commercial gardens.
Two qualified gardeners
A full day (7 hours) of work.
Fully equipped with electric tools - quiet and eco-friendly!
$20 off each service for recurring customers
Great for extensive multi-area gardens which need additional time and a full range of expertise, or strata / commercial properties.
*if outside our usual service area, we may need to include an additional small travel surcharge  - will be advised upfront before booking.
All gardening packages include:
A team of two qualified gardeners
Professional-grade electric tools to handle all garden maintenance tasks
Removal of all green waste*
Get $20 off every service by becoming a recurring customer!
You can be confident that when you book with us we will show up when we say we will, you can always reach us during business hours and we are fully insured and accountable for the quality of our work.
We are proud of our 5-star reviews and hundereds of happy and ongoing customers – and would love you to be one of them!
*We can remove all green waste our teams generate so you don't have to worry about a thing – this is charged at $35 per garden bag.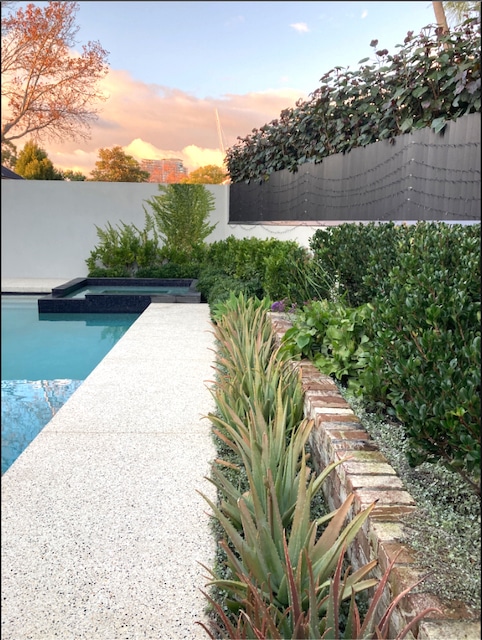 Can we take care of your garden mulching?
Talk to us today about what you need, or request a professional assessment for a quote.
Our Complete Garden Maintenance Services
Have Questions? Read through our FAQs...
Here are some of our most frequently asked questions when it comes to our mulching services in Perth. If you don't see what you need – just get in touch with our friendly team!
How often should I mulch my garden beds?
Mulch should be applied at a thickness of 50-100mm; when the mulch breaks down over time and the thickness reduce it is time to re-apply. Our regular garden maintenance customers don't have to worry about mulching as we will remind them when it becomes time to spread mulch again. Re-mulching is important to ensure your plants remain in peak condition and you save on water use throughout the year.
What is the best kind of mulch?
While there are many cheaper options out there, we prefer the use of pine bark mulch for Perth gardens. It is ideal for both preventing water evaporation while letting water penetrate. It also is a good quality while means it takes longer the break down than cheaper options while still looking tidy and accenting your garden. Depending on your plants and soil, we'll determine which type of mulch will be most beneficial to your garden; pine bark, river rock, pea straw, bark, post pealing, or mushroom compost. Based on our skills and experience in garden maintenance, we'll also ensure mulch is laid to the right depth; ensuring water can penetrate while also minimising evaporation and preventing weed growth.s.
How thick should the mulch be in my garden?
To be efficient a mulch should be applied at a thickness of 50 to 100mm (5 to 10 centimetres). But this also depends on your plants, location and soil type, if you are unsure, just request an assessment for advice and a quote our professional landscape gardeners.
Do I need to mulch around my trees?
When mulching we want to avoid direct contact with the trunk or base of the plants (approximately 80-100mm from the plant) but protecting the root system of any plants is important
Can you mulch my commercial property?
Absolutely, we're equipped to mulch any size of garden and property. Get in touch and we will discuss the best way to go about your commercial property.