Planting Services
Professional planting advice, supply and installation
Time to renew your garden?
From replacing dead or unsuitable plants to planting advice, supply and installation – we can help.
Alongside our regular gardening services, we can also assist our clients with improving their gardens through supplying and installing new plants. Just let us know which plants you need and we can provide a quote for supply and expert install.
If you would like a change in your garden and need professional advice on which plants would be best suited to your space, we can conduct an expert Garden Assessment, helping you select the right plants, and then professionally install them with the right soil improvers and fertilisers to give them the best start to life in your garden!
Know exactly which plants you need?
Get a free estimate now
Simply fill in the form below with the variety, maturity and quantity of plants you need, and we can provide you with a free estimate for supply and installation in your garden.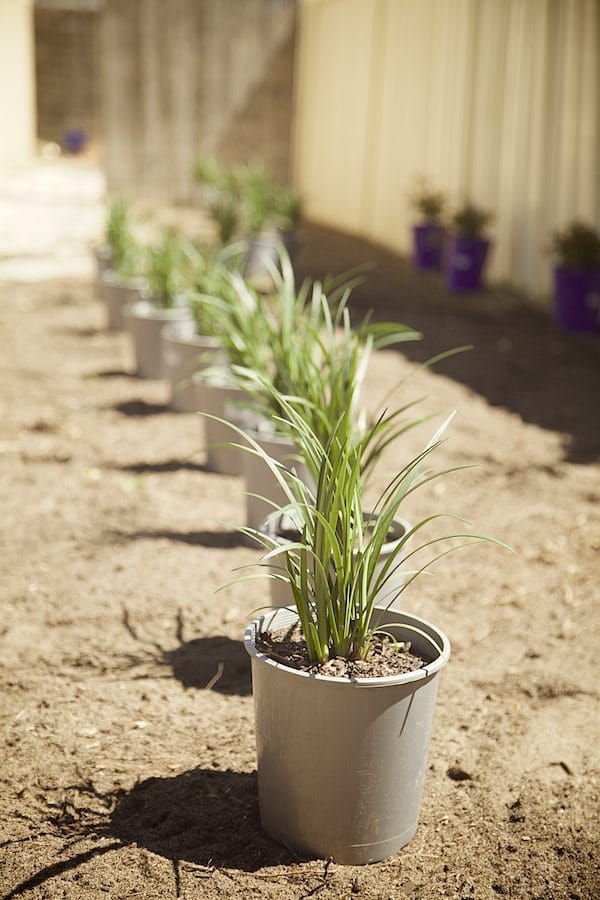 Planting Services & Assessment
Not sure what plants you would like and need professional advice?
Choosing the right plants for your soil, location, lifestyle and overall look of your garden is an important element in creating a beautiful garden. Some plants look amazing but require a lot of care and maintenance, while others can develop damaging root systems if planted near pools or hardscaping.
Having expert advice on what will work best in the long-term is key! We want to help make sure your garden suits your needs and looks great for years to come. If you aren't sure what you need and would like advice from an expert, you can book in for a professional Garden & Planting Assessment with one of our landscape gardeners.
They will assess your gardens, location, soil type and overall style and advise on the right plants and options to make it look its best, then provide you with a quote for the supply and installation.
They can also provide a Garden Maintenance quote while there if you would like help with the ongoing care of your garden.
Assessments cost $175 for properties within the Inner Perth Metro Area – a travel surcharge will apply for assessments outside. We will advise you on the total cost during booking.
Qualified Gardeners & Horticulturists
Expert Advice & Recommendations
Make the Right Plant Choices the First Time
Our Garden Maintenance Packages
$250
Ideal for small, well-maintained gardens.
Two qualified gardeners for an hour of work.
Includes 1/2 bulka bag of green waste removal.
A very popular quick tidy up on a fortnightly or monthly basis to keep your garden looking amazing.
$390
Ideal for medium gardens.
Two Qualified gardeners for two hours of work.
Includes 1 bulka bag of green waste removal.
This package is ideal when a range of services and skills are required, weeding, pruning and lawn care.
$780
Great for larger blocks or complex gardens. 
Two Qualified gardeners for four hours of work.
Includes 2 bulka bags of green waste removal.
For completing more complex services such as hedging, pruning, extensive weeding and general garden cleanups.
$1,560
For large or neglected gardens.
Two Qualified gardeners for a full day of work.
Includes 1 full trailer load of green waste removal
Great for when there are complex elements to the garden that may need additional time and a full range of expertise.
*if outside our usual service area, we may need to include an additional small travel surcharge  – will be advised upfront before booking.
A team of two qualified gardeners
Professional-grade tools to handle all garden maintenance tasks
Removal of all green waste*
Application of fertilisers and wetting agents – if required 
*If your green waste exceeds the package allocation, we will remove it for you and simply charge for the excess as required. Just check with us first if you think you'll require extra!
Need help with your garden planting?
Get a free estimate or request a professional assessment for advice and a quote.
Our Complete Garden Maintenance Services
Have Questions? Read through our FAQs...
Here are some of our most frequently asked questions when it comes to our planting services in Perth. If you don't see what you need – just get in touch with our friendly team!
Do you have local plant knowledge for native planting?
Yes, in fact, we use natives within our planting and client gardens as much as possible. They are ideal for our Perth climate, along with being a great choice for low-maintenance, waterwise gardens. They also look great and provide evergreen and colourful planting options.
Can you help me create a low-maintenance garden?
Of course. We can advise you on native and low-mainteance planting options, along with using mulching or gravel to minimise water use and provide weed control to make sure your garden looks great with a minimum of effort. We can also provide regular garden maintenance services to ensure you get to enjoy your garden year-round without having to lift a finger!
Can you also help with elements like garden edging to improve the look of my garden?
By partnering with our sister company – Perth Landscaping Experts – we can offer end-to-end garden landscaping services; from creating your landscape to maintaining it. Just let us know what you need and, if it is garden-related, we will be able to help!
How much do your planting services cost?
What are your goals and how much would you like to invest? There are always options to suit every budget, so make sure you let us know what you had in mind and we will make sure you know what you can and can't do within that price, along with letting you know the options so you can either stick to your budget or invest a little more to make sure you can have everything you want!  From choosing plants of a different maturity stage to lower the cost, to adding that the perfect finishing touch you may not have thought of, our expert landscape gardens can help.